What's On
Country Witches Come to Katoomba!
Details:
CWA (Country Witches Association) - comedian Mandy Nolan and singer/songwriter Áine Tyrrell

The Country Witches Association have decided to embark on their first socially distanced road tour taking in two shows in Sydney at the Petersham Bowlo and one in Katoomba at the Baroque Room !

So for those coming out of their COVID coma who are tired of waiting for change, be ready! Creative women are on their way to stir he political pot! This is the (dis)organisaiton everyone's been waiting for, where musician Áine Tyrrell and comedian Mandy Nolan mix genre's in the cauldron to bring dangerous dialogues and uncomfortable collaborations to the boil!

Musician Àine Tyrrell says 'if you're not doing something that you would have been burnt for 400 years ago then you're not trying hard enough.'

The idea for the Country Witches came about quite by accident when the two were raising money for a local cause and joked 'we're like the CWA – except we're the Country Witches Association.' And that's how it started.

So for women tired of waiting for permission to join the conversation, sick of judgement and expectation, of being tired, of violence, and oppression and nothing changing now's the time to join the Country Witches!

The CWA hits a vein and women want in. Audience members commented after one of their shows 'it was like a cross between a religious revival meeting, a political gathering, a comedy and music show.' They created a secret handshake, invited audience members to set the agenda and planned upcoming actions for the greater group.

Mandy says: 'As performers we get a bit tired of sticking to the rules, so the idea of the CWA is to unleash our more deviant selves. This is a creative space to navigate topics at a deeper level than you'd do in a traditional pub format.'

The CWA Meeting format invites the audience to participate by becoming members and suggesting topics to be discussed during the show with much of this becoming content for their podcast.

The CWA Meeting features comedy and story telling by Mandy and music by Áine plus a few surprises along the way!

Location:
Baroque Room, Carrington Hotel Katoomba
Contact:
Bookings via the website link below on
Share Event
Share
Country Witches Come to Katoomba!

with friends.
What's New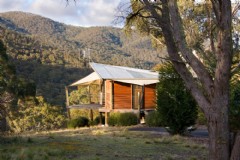 Nestled amongst the trees, enjoy nature and the tranqility whilst soaking in your Spa bath.
more »
SAVE $$$ for 3 nights, 2 guests from $155 per night MIDWEEK...see website for details
more »