What's On
Expired Event - March Art Exhibition at Lyttleon Stores: "Edge of the Sacred" - 2 Mar 2018
This is a past event:
Search for New Events »
March Art Exhibition at Lyttleon Stores: "Edge of the Sacred"
When:
Every day until Thu 29 Mar 2018
Details:
At 7pm on Friday 2nd March the new exhibition in the Window Gallery of Atelier, Lyttleton Stores, will be the unusual combination of native animals and mythology by Louise Upshall.

In her own words: "What does it mean to seek a spiritual connection with this land as a non-indigenous Australian?

David Tacey's book Edge of the Sacred explores how the majority of Australians live both geographically and emotionally on the edge of this continent. Clinging to the coastlines, living in cities, we remain detached from the sacred truths the land holds.

Inspired by Tacey's book, and my own longing to embrace these sacred truths, I have created a collage series of mythic figures who embody the interconnectedness of humans, animals and the land. These hybrid figures are poised and contemplative, clothed in photographs of deserts and grasslands and mountains.

Both our emotional wellbeing and the ecological health of this beautiful planet require that we re-learn our ancient birthright of feeling connected to the land we live on. No matter how long we have lived here, we need to see ourselves as belonging to this place. We need to seek ways to create a relationship with this landscape, with the creatures and the plants of this place. My art practice is one way that I explore these ideas, and this series is an invitation for you to do the same."

The opening will be catered for by Lyttleton's Preserve, starting at 7pm and concluding at 9pm. The exhibition will run for one month until 29 March. For more information about the Window Gallery visit the stores, visit the website link or phone 4759 3478.


Location:
Lyttleton Stores, 1 Badgery Cres, Lawson
Contact:
For further information on
4759 3478
Share Event
Share
March Art Exhibition at Lyttleon Stores: "Edge of the Sacred"

with friends.
What's New
Alison launching new book from her National Trust exhibition, The Royal Court of the Imperial Flower Kingdom.
more »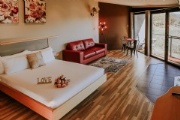 For an experience that will be remembered long after the gift of giving - why not consider a gift voucher.
more »