Blue Mountains News
We're Half Way There
Source: Stuart Ayres MP, Member for Penrith
Archived 6 May 2018
- Posted: 7 Mar 2018
Work is ramping up on the Nepean River Bridge with another major milestone achieved as the structure reaches halfway across the river.
Stuart Ayres said the Penrith community will soon be able to enjoy the new pedestrian and cyclist bridge, with more than 70 per cent of work now complete.
"Crews have already completed four launches to get the bridge to its final destination and this launch marks the halfway point across the iconic Nepean River," Stuart Ayres said.
"The bridge is now 100 metres across the Nepean River and still has 100 metres to go before it reaches the pier on the western side of the river.
"Crews have been working hard since mid-2016 to prepare the river and the site for the new pedestrian bridge and it's great to see the progress being made on this exciting piece of infrastructure which will serve the Penrith community for years to come."
"As the segments are pushed across the river, crews are still working hard behind the scenes in the temporary workshop to put the remaining bridge components together as well as weld and paint the steel to form the main span of the fantastic new bridge," Stuart Ayres said.
"Once the new 200 metre long pedestrian bridge reaches the western side of the Nepean River, crews will then install railings and lighting.
"Next month steel girders for the approach span on the western side of the river are also expected to be lifted by crane into position. This work will be carried out at night to minimise any impact to motorists.
"The last step will be to remove the temporary piers in the river which will provide rowers and boaters with complete access to the beautiful waterway running through the Nepean region," added Stuart Ayres.
This article archived 6 May 2018
Recent News
What's New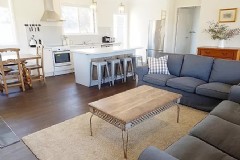 Summer sale at Kilbeggan Cottage!
Kilbeggan Cottage
Enjoy 20% off if you stay between Friday 8th January and Thursday 11th February.
Valentine Day Cadillac tour + Rose $150
Blue Mountains Limousines & Vintage Cadillacs
1929 "The Gatsby" era Limousine Experience - 30 mins Plus a Rose. "Jump in the back seat of my Cadillac !!"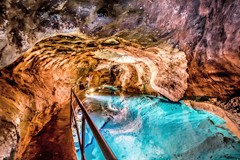 5 Caves Open with Small Tour Groups
Jenolan Caves
Booking Essential. Bring a facemask and enjoy exclusive small tour groups.
School Holidays Are Here!
Federation Gardens and Possums Hideaway
Family friendly, fully self contained cottages on offer
Enjoy a cottage in the Blue Mountains
Matildas Of Leura
Enjoy a comfortable stay in this delightful self-contained 3 bed cottage only minutes from Leura Mall
See also: