Blue Mountains News
Upgrades to Scenic Eastern Escarpment Walking Tracks and Lookouts
Source: Blue Mountains City Council
Archived 5 Sep 2019
- Posted: 9 Jul 2019
A $2 million upgrade to 2.35km of walking tracks in the lower Blue Mountains will make significant heritage features more accessible to residents and tourists.
The Blue Mountains City Council project, with detailed design set to get underway later this year, will upgrade walking tracks between key features in Knapsack Reserve. This includes Siding Lookout to Knapsack Viaduct, Elizabeth Lookout to Knapsack Viaduct, Marges Lookout to Mitchells Pass, and Marges Lookout to Lennox Bridge.
Mayor, Cr Mark Greenhill, said development of the Scenic Eastern Escarpment walking tracks and lookouts would take two years to complete and include a fully accessible path from Knapsack Street track head to an upgraded Siding Lookout.
"This project will not only make these walking tracks in the lower Blue Mountains more accessible to more people, but it will also help open up significant heritage areas.
"For example, a new concrete path will provide full accessibility along the top section of the Lapstone Zig Zag Walking Track, through an impressive cutting and past the former Lucasville train station. It will also connect to a new lookout with views down to the heritage Knapsack Viaduct and beyond to the Penrith plains."
The Lapstone Zig Zag was a railway built in 1863-1865 to overcome, an otherwise insurmountable climb, up the eastern escarpment of the Blue Mountains. Today the path is marked by an informal and eroded track, leading to an opening in the trees at Siding Lookout, where embankment repair is needed.
It is proposed that a new Siding Lookout will wrap the edge of the existing switchback, while terraced seating will give priority views over handrails to people in wheelchairs. It will also include interpretive signage.
"An improved trailhead and connections to an extended network of paths linking Penrith to Glenbrook, opens up the potential of bushland recreation to locals and tourists alike," Cr Greenhill said.
The project will be funded under the Western Parkland City Liveability Program, which is part of the Western Sydney City Deal (WSCD). The WSCD is a 20 year-agreement between Australian and NSW governments, and the eight local Councils of the Western Parkland City.
Council will be seeking feedback from the Blue Mountains community when the project gets underway in August 2019.
This article archived 5 Sep 2019
Recent News
What's New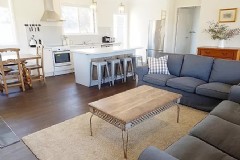 Summer sale at Kilbeggan Cottage!
Kilbeggan Cottage
Enjoy 20% off if you stay between Friday 8th January and Thursday 11th February.
Valentine Day Cadillac tour + Rose $150
Blue Mountains Limousines & Vintage Cadillacs
1929 "The Gatsby" era Limousine Experience - 30 mins Plus a Rose. "Jump in the back seat of my Cadillac !!"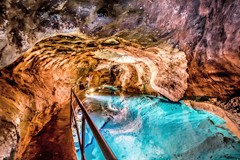 5 Caves Open with Small Tour Groups
Jenolan Caves
Booking Essential. Bring a facemask and enjoy exclusive small tour groups.
School Holidays Are Here!
Federation Gardens and Possums Hideaway
Family friendly, fully self contained cottages on offer
Enjoy a cottage in the Blue Mountains
Matildas Of Leura
Enjoy a comfortable stay in this delightful self-contained 3 bed cottage only minutes from Leura Mall
See also: