Blue Mountains News
Ultra Trail Australia Trail Running Events on Blue Mountains Walking Tracks
Source: Ultra-Trail Australia
Archived 14 Jul 2019
- Posted: 16 May 2019
Popular Blue Mountains walking trails will be awash with runners for the next four days as Ultra Trail Australia comes to the Blue Mountains.
Ultra Trail Australia is a multiday trail running event that starts today and runs right through to Sunday. Trails along the southern escarpment will be busy as thousands of runners aim for their personal best.
Races include a variety of distances including 11km, 22km, 50km and 100km races. Even the 11km race is not for the fainthearted as runners descend to the valley floor and then climb back to the top of the cliff tops.
While trails will still be open to the public, be warned that they will be busy. Most races start and finish at Scenic World but runners will be competing on trails from Katoomba to Leura and Wentworth Falls.
Road closures will take place around Scenic World on Saturday morning from 5am - 9:15am. Closed areas include sections of Cliff Drive, Acacia, Cedar and Violet Streets, Stuart Road, Peckhams Road, Neale Street, and Katoomba Falls Road. For further information please view the road closure map on the Ultra Trail Australia website.
Popular trails in use between Thursday 16th May and Sunday include:
Furber Steps
Prince Henry Cliff Walk
Dardanelles Pass
Federal Pass
Sublime Point Trail
Amphitheatre Track
Leura Cascades
Grand Cliff Top Track
Narrowneck
Six Foot Track
Races include:
UTA11
Starts Thursday 16 May afternoon from 1pm
Race starts: Fairmont Resort 1pm
Race finishes: Scenic World from 1:30pm
Tracks include, Prince Henry Cliff Walk, Federal Pass and Furber Steps
UTA22
Friday 17 May from 9am
Race starts: Queen Victoria Hospital from 9am
Race finishes: Scenic World from 10:35am
Tracks include Sublime Point Trail, Federal Pass, and Furber Steps
UTA100 and UTA50
Saturday 18 May from 6am
Races start: Scenic World from 6:20am
Races finish: Scenic World from 10.40am right throughout the day and night
Tracks include Prince Henry Cliff Walk, Dardanelles Pass, Grand Cliff Top Track, Nature Track, Princes Rock Track, Undercliff Track, Sublime Point Fire Trail, Federal Pass and more.
Sunday 19 May
Final finishers on the UTA100 (finish cut-off 11.45am), plus 1km kids race.
The 4 day event will finish on Sunday morning with a 1km kids race around Scenic World followed by presentations.
If you are planning a walk in the area this weekend we would strongly recommend checking the Ultra Trail Website and reviewing their detailed maps.
If you'd like to avoid the crowds altogether, we'd suggest alternative locations for walks such as Mt Hay on the northern side of Leura, or there are plenty of options at Blackheath.
This article archived 14 Jul 2019
Recent News
What's New
Santa Delivered Goodies 4 Kids & Adults
Blue Mountains Limousines & Vintage Cadillacs
Hampers crammed with Blue Mountains-made delicacies to children or adults at any address in the local region.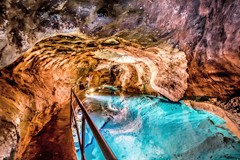 Jenolan Caves have reopened some caves
Jenolan Caves
Exclusive weekend accommodation or Chisolm's dining cave experiences available now.
The ATO's cyber security checklist +++
Trumans Chartered Accountants
Trumans November Newsletter now available. What does the "full expensing" write-off deduction mean for business?
La Casetta
La Casetta
A new luxury cottage just listed for your summer stay in Leura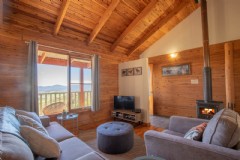 The perfect place to relax this summer
Melaleuca Mountain Retreat
Views that will leave you breathless, a place to relax. Melaleuca Mountain Retreat offers the perfect getaway !!
See also: