Blue Mountains News
Treats and Treasures for Everyone from The Joan
Source: Joan Sutherland Performing Arts Centre
Archived 11 Feb 2018
- Posted: 12 Dec 2017
Christmas tree up…tick

Christmas lights untangled...tick

Christmas gift ideas…um?!
Don't be stuck for a Christmas gift idea this year. Give your friends, family, loved ones, clients or staff a gift of unexpected wonder – tickets to one of The Joan's 2018 season shows, fine music, kids programs, learning or even a random gift of kindness.
Here are some ideas sure to delight even the most challenging person to buy for.
Why not give a season subscription to The Joan? There are many treasures to be uncovered in 2018 – classics, familiar and well-known actors, fresh new works, the choices are varied - Bell Shakespeare's Julius Caesar, Isaiah Firebrace, Bosom Buddies with Todd McKenney & Nancy Hayes, Letters to Lindy, The Magic Pudding.
The Joan is the place to go for a compelling theatre experience. With plenty to choose from in 2018, a gift voucher makes an ideal present. Come along, sit down, have a drink, watch a show and be prepared to be surprised again with something completely new and home grown from Q Theatre. Yellow Yellow Sometimes Blue promises to be a night of art, intrigue, and some spectacular canapés inspired by the history of Penrith Regional Gallery & The Lewers Bequest. Support young theatre makers creating fresh new work by purchasing tickets to Q Theatre's Back-to-Back double-show experience with Everything You Ever Wanted and How I Saved the Western Black Rhino.
What to get active seniors with everything? Give the gift of chart topping hits and legends with a subscription to Morning Melodies. Most concerts sold out in 2017, so book now for the best seats in the house and to avoid missing out. Morning Melodies salutes the talents of yesteryear with tributes to Elton John, Rod Stewart, Johnny Cash, Peter Allen, ONJ and Buddy Holly. Acclaimed performers Frankie J Holden and Michelle Pettigrove share heart-warming stories and songs, and the delightful Rachael Beck will take you on a journey through her showbiz career. At $20 a ticket plus a complimentary morning tea it makes an ideal present sure to bring joy! Give a subscription of 12 shows for the price of 11.
Plan a few treats and holiday at home this year – give the kids an experience in 2018 with tickets to the Playground. A family pass (four tickets including at least one adult) to three shows not only saves you money but your kids (or grandkids) will have something great to look forward to and a chance to squeeze some wonder into their schedule. Relive a classic Australian during the 100-year anniversary of The Magic Pudding – as Norman Lindsay's iconic Australian characters come to life for a new generation of pudding fans. Then of course there is the well-known The Very Hungry Caterpillar Show, The 78-Storey Treehouse, Josephine Wants to Dance and more!
A gift for musical lovers? How about tickets to join Australia's true showbiz legends Nancye Hayes and Todd McKenney in Bosom Buddies. Together on stage, these two stars shine brightly as they sing, dance and reminisce. Tapestry – the songs of Carol King featuring Debra Byrne and Vika Bull, promises to deliver Carole King's masterpiece with the powerhouse vocals of two of Australia's greatest female performers.
Create a mini comedy package gift; it's the best way ensure you don't miss the funniest shows in town. From The Wharf Revue's irreverence and the irresistibly funny Melbourne International Comedy Festival Roadshow to the uplifting story of Daniel Tobias in The Orchid and the Crow.
Empower curious minds. Music lessons with the Joan's Penrith Conservatorium of Music, acting and theatre courses with studioQ or a January School Holiday workshop will encourage creative discovery, fun and learning for the next generation.
How about a unique Australian stage experience? Dance meets music in unexpected ways when Murmuration, a pioneering integrated performance company presents Days Like These, exploring human stories of joy, loss, frustration and change. Or take an atmospheric trip from Vivaldi's The Four Seasons to something brand new as a duo of indigenous dancers from the Thomas ES Kelly project and The Song Company trace the Earth's annual journey in Four-Colour-Season.
Always talking about date night? Try something different, be organised and surprise your loved one with an early booking for a night out. From fine music with the Australian Haydn Ensemble and Mirusia to RnB with B2M and X Factor winner, Isaiah Firebrace. Think grand – like eight grand pianos on stage at one time for a thrilling concert with some of Australia's most brilliant musicians and Tamara-Anna Cislowska at the helm – Eight Grands is sure to impress. Choose a musical interlude for your taste and look forward to a different night out!
Looking for a gift that is thought provoking and conversation starting? Filled with humour and heartbreak, Letters to Lindy is an enthralling, moving and long overdue dialogue between Lindy and the nation. Drawing on over 20,000 letters, as well as extensive interviews, award-winning playwright Alana Valentine explores the public's relationship to one of Australia's most iconic figures – Lindy Chamberlain.
Share your love for the arts with others. Donate to The Joan's Creativity Counts fund to help support artistic excellence in our local region and enable others to access creative and educational opportunities. Give a gift to someone who has less! Your tax-deductible gift will enrich the creative lives of local young people. Donations can be made online.
It's time to double check your Christmas list. Remember - if you've left anyone off, you can still book tickets online to any of the Joan's High Street Season, Fine Music, Kids & Families and other creative treats – give the gift of unexpected wonder in 2018!
Tickets available online or the box office – book now to avoid disappointment and solve all your Christmas shopping dilemmas!
This article archived 11 Feb 2018
Recent News
What's New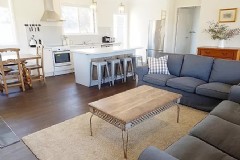 Summer sale at Kilbeggan Cottage!
Kilbeggan Cottage
Enjoy 20% off if you stay between Friday 8th January and Thursday 11th February.
Valentine Day Cadillac tour + Rose $150
Blue Mountains Limousines & Vintage Cadillacs
1929 "The Gatsby" era Limousine Experience - 30 mins Plus a Rose. "Jump in the back seat of my Cadillac !!"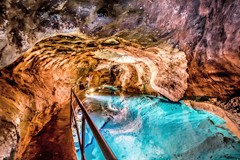 5 Caves Open with Small Tour Groups
Jenolan Caves
Booking Essential. Bring a facemask and enjoy exclusive small tour groups.
School Holidays Are Here!
Federation Gardens and Possums Hideaway
Family friendly, fully self contained cottages on offer
Enjoy a cottage in the Blue Mountains
Matildas Of Leura
Enjoy a comfortable stay in this delightful self-contained 3 bed cottage only minutes from Leura Mall
See also: