Blue Mountains News
Blackheath Golf Results Wednesday 17th April - Saturday 20th April 2019
Source: Blackheath Golf Club
Archived 23 Jun 2019
- Posted: 23 Apr 2019
BLACKHEATH MEN
Wednesday 17th April was our weekly Stableford and 2BBB, David Birrell (20) winning the singles event with a great score of 42 points, Lenny Redman (8) came home in 2nd place with 39 on countback? In the 2BBB it was Ian Evans (4) and David Birrell topping off a good day with 48 points, Andrew Dobbs (5) and Lenny Redman were runners-up. Nearest the Pins went to Andrew Dobbs (600 cm) on the 2nd and John Wilson (258 cm) on the 17th, balls to 32 on c/b.
Saturday 20th April was our annual Irish Team and Single Stableford with much appreciated sponsorship from Katoomba Hire (George Jordan), on a beautiful autumn day we welcomed visitors from Royal Sydney, Long Reef, Killara, Meadow Springs, Gold Creek and Yowani. The team winners were the formidable group of Ian Tonkin, Ken Scully, Terry Gilchrist and Richard Debenham with 94 points, coming in 2nd on countback were Graham Jones, Peter White, Charlie Miller and Graham Phillips. The Singles winner, topping off a good day was Richard Debenham (14) with 40 points over Peter White (28), also on c/b. Nearest the pins were as follows, 2nd (Blue Mountains Plantation Shutters and Cabinetmaking), Ian Robinson @ 55 cm, 5th (Leading Edge Computers, Katoomba), Roger Pierce @ 20 cm!, 7th (Silly Milly Kids Clothing), Gordon Stovold @ 65 cm, 13th (Blue Mountains Escapes), Shane Murphy @ 156 cm, 14th (Scully Legal), Mick Hillier @ 388 cm and 17th (Ben Cameron), Richard Debenham @ 134 cm. In the Ntps, it is worth noting that Mick Lonergan was our closest member and picked up the Pro Pin of $137 on 17 and we had a visit from PGA member Lachlan Foulsham who hit shots to 98 cm on 13 and 140 cm on 14 but graciously left the awards for the amateurs.
BLACKHEATH WOMEN
Saturday 20th April, The Ladies played a Single Stableford with generous sponsorship by Louise Stevenson, Winner on the day was Chris Rhind (25) with 31 points and coming in runner-up was Rhonda Lonergan (23) with 30 on countback.
Thanks to all our weekly competitors and well done to all prize winners, come and enjoy this awesome Autumn weather with a game at the best course in the Mountains, contact Darrin's Friendly Pro Shop for a tee time or any other golfing needs on 47875643.
This article archived 23 Jun 2019
Recent News
What's New
Katoomba Ghost Bus Tour
Blue Mountains Mystery Tours
Join Paranormal Pete on the Ghost Bus to investigate the reports of Ghosts & Hauntings in Blue Mountains. 0418 416 403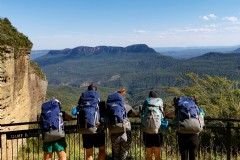 We are open!
Freeland Hiking Co.
Come and explore the mountains with us on a day-tour in the Blue Mountains.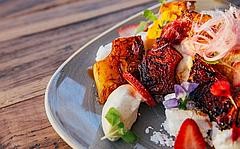 Lindsay's Cafe: Beautiful & Relaxing
Lindsay's Cafe
Join us for Breakfast or Lunch. Open from 9am weekends. 10am weekdays @ the Norman Lindsay Gallery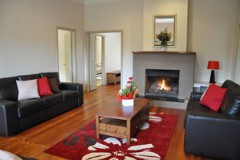 Autumn Getaway
Sophia's of Leura
Come and see the beautiful colours in Leura this Autumn. Book now for your escape.
Spa, slow combustion fire place, BBQ
Blue Gum House
$480 special this weekend for 2 adults, linen included. + $30 per additional person, per night !
See also: