Blue Mountains News
Portland Pool set for opening weekend
By Portland Pool
Posted: 27 Nov 2020
The Portland Pool is set to get its season underway this weekend. With more fantastic warm weather forecast it is great timing for locals and visitors alike who enjoy coming out to the community operated pool.
The Portland Pool is a community operated pool and each season is operated by a small group of hard working volunteers, but t is not just during the season that the work is done, the off season also sees maintenance and service of important infrastructure take place.
This year during the off season the chlorine controllers, pumps and cleaners were all upgraded thanks to generous donations from NSW State Government and our corporate supporters.
The pool is currently looking for additional lifeguards for the season, the lifeguards are paid positions and are essential for the pool to continue its operation.
"We'd like to thank all the sponsors of the pool and the committee members that continue to support us, but most of all we just want to see people come out to Portland, enjoy a great day out at the pool and enjoy one of the last good old fashioned Aussie public pools in the region," said Mr Taylor.
For details on opening times and entry prices as well as details on available life guard positions, please visit the Facebook page here
Recent News
What's New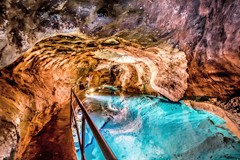 5 Caves Open with Small Tour Groups
Jenolan Caves
Booking Essential. Bring a facemask and enjoy exclusive small tour groups.
All occasion Beauty at your door
Glamour & Elegance Mobile Beauty
Pamper Events-Hens/bridal-Corporate-Kids Parties-Couples-Weddings-Ladies Pamper-Mothers Groups-Vouchers-
1929 Cadillac LaSalle Experience
Blue Mountains Limousines & Vintage Cadillacs
Blue Mountains Luxury Tours - Stretch Limousine, Caprice, 1929 Cadillac LaSalle
School Holidays Are Here!
Federation Gardens and Possums Hideaway
Family friendly, fully self contained cottages on offer
Enjoy a cottage in the Blue Mountains
Matildas Of Leura
Enjoy a comfortable stay in this delightful self-contained 3 bed cottage only minutes from Leura Mall
See also: