Blue Mountains News
Mike + Ruthy (USA) - from The Mammals 'Live at the Attic' Upstairs at Hotel Blue
Source: Fusion Boutique
Archived 10 Jul 2019
- Posted: 13 May 2019
Mike Merenda and Ruth Ungar are a Hudson Valley, USA based husband-and-wife duo setting the Americana/Indie-Folk scene ablaze, as a duo or with their five-piece band, The Mammals.
Singers, songwriters & storytellers, social & environmental activists, poets and parents, they tour with their children in tow, embodying a down-home approach to Americana.
Merenda is a prolific songwriter, who's recent crowd-pleasing piece, Sunshiner, was nominated for an International Folk Music Award for Song of the Year. It is an ode to renewable energy which simultaneously honours the past and looks to the future with the sing-along lyric, "Yes my Daddy was a miner, but I'm gonna be a sunshiner."
Ungar's unique vocal style ranges from a cappella balladry to earthy soul and country. She was raised in a folk music family and learned the fiddle at a young age.
She is carrying on her family tradition, being the daughter of legendary fiddler/composer, Jay Ungar, known for his famous composition, 'Ashokan Farewell' used as the theme for Ken Burns' landmark documentary, 'The Civil War', which she also enjoys performing.
"Mike & Ruthy concerts blend artistry and authenticity, with fiery fiddle & banjo, emotionally potent harmonies, and dynamic stories that deepen the experience. Tap your toes and sing along as Mike & Ruthy "roam effortlessly through the whole span that is Americana, from alt-country to folk to bluegrass." – The Bluegrass Situation
"These two will shatter any stereotypical misconceptions of what it means to be a folk musician" – The Coastal Journal
"Everything is masterfully performed as Mike Merenda and Ruthy Ungar sing about the charms of hard work, home made wine and free parking. Amid the barn dance reverie created by fiddle, pedal steel, horns and more, Ruthy's versatile alto is the most glorious instrument of all." – ABCnews
"Pristine" – The New York Times
"Some of the best song writing of their generation" – LA Weekly
Visit the Mike and Ruthy website
About Hotel Blue 'Live at the Attic'
The main entrance and reception are accessible via Merriwa St. The upstairs performance space is in the function room on the top floor. Access can be made up the stairs at the back of the lounge area.
Drinks and meals will be available for purchase from the bar downstairs.
*Please note that there is no bar on the level of the performance room.
Hotel Blue is an all ages venue however minors must be accompanied by a parent or legal guardian and must remain supervised and do require a standard ticket for entry. Please also keep in mind that the performance space is a seated listening room. General Admission. Theatre Style Seating.
---
Mike + Ruthy (USA) 'Live at the Attic'
Date:
Friday 1st November 2019
Time:
Doors Open upstairs 6pm. Show Starts 7pm.
Venue:
Hotel Blue 'Live at the Attic', Upstairs, 88 Lurline St, Katoomba
Tickets:
$20 pre-sale available from Hotel Blue reception (during reception hours) (Cash Only)
$21.50 (Including booking fees) Phone 02 4782 6922 and Online :
$25 on the Door from 6pm (Unless Sold Out)
*Please Note - This is a limited capacity boutique venue!
This article archived 10 Jul 2019
Recent News
What's New
Santa Delivered Goodies 4 Kids & Adults
Blue Mountains Limousines & Vintage Cadillacs
Hampers crammed with Blue Mountains-made delicacies to children or adults at any address in the local region.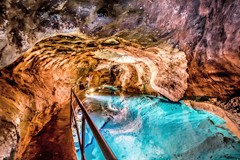 Jenolan Caves have reopened some caves
Jenolan Caves
Exclusive weekend accommodation or Chisolm's dining cave experiences available now.
The ATO's cyber security checklist +++
Trumans Chartered Accountants
Trumans November Newsletter now available. What does the "full expensing" write-off deduction mean for business?
La Casetta
La Casetta
A new luxury cottage just listed for your summer stay in Leura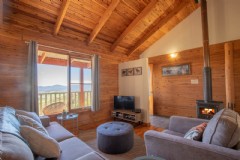 The perfect place to relax this summer
Melaleuca Mountain Retreat
Views that will leave you breathless, a place to relax. Melaleuca Mountain Retreat offers the perfect getaway !!
See also: