Blue Mountains News
Local heroes celebrated in Main Street banner campaign
By Lithgow City Council
Posted: 28 Nov 2020
Lithgow City Council's Local Heroes campaign celebrates the region's community spirit with a vibrant display of 28 banners lining Main Street between Lithgow and Bridge Streets.
The Local Heroes campaign is a celebration of our community's resilience and an opportunity to say thank you to the many organisations, services and individuals that have gone above and beyond to support the community through the challenges of bushfires and a pandemic.
"There are countless individuals and groups that deserve recognition. The heroic efforts of emergency services and volunteers during the Gosper's Mountain Fire was awe-inspiring and humbling," Mayor Ray Thompson said. "There are hundreds of stories about the community coming together during a time of need. We've heard recounts of local businesses that provided accommodation, food or materials to bushfire affected residents; of charity organisations turning up every day to support on-the-ground needs of emergency services; and strangers that came to the aid of neighbours, forming new friendships along the way.
Mayor Thompson also commended the dedication of all community and health services that have had to adapt quickly to protect the community from the impact of COVID-19. "Frontline workers have had to overcome significant challenges and faced risks on a daily basis to put the wellbeing of others before themselves. Their extraordinary commitment to service has made a vital difference to the community's ability to meet these recent challenges."
The individuals photographed for the campaign represent the diversity of individuals and groups that have dedicated themselves in different capacities to supporting the community through these unprecedented times. Portraits include Doreen Peters, a volunteer at the Hartley Bushfire Brigade Canteen for over 50 years, who ran the canteen from morning to evening for 68 days straight during the Gosper's Mountain Fire; Members of the Clarence Dargan RFS, Antonia Ravesi, Monica Cowie and Rebecca Ferguson, who were at the frontline of one of the most ravaged areas and coordinated records of residents locations and evacuation; Chief Inspector Chris Sammut, who is also the appointed Local Emergency Operations Controller for the region and Senior Constable Mick Barr were instrumental as part of the on-the-ground response team during the fires; David Gerdes, a resident of Dargan, lost his home to the Gosper's Mountain Fire and now wants to undertake RFS training and become a Red Cross Volunteer to give back to the community that has shown him support; and Mel Anderson, a Clinical Nurse Educator at Lithgow Hospital, one of the many frontline workers overcoming the daily challenges of a pandemic to provide essential care to our community.
"All the challenges we've faced throughout the year have highlighted the region's generosity, dedication, and care we have for one another," Mayor Thompson said. "Whilst it would be impossible to include portraits of everyone that made a difference this year, we hope this campaign serves as a reminder and celebration of the generosity and resilience within our community."
This campaign is supported by NSW State Government funding through Resilience NSW.
We invite you to share your own experience and to tell us about a person or group that made a difference this year. Email your story
Recent News
What's New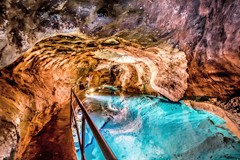 5 Caves Open with Small Tour Groups
Jenolan Caves
Booking Essential. Bring a facemask and enjoy exclusive small tour groups.
All occasion Beauty at your door
Glamour & Elegance Mobile Beauty
Pamper Events-Hens/bridal-Corporate-Kids Parties-Couples-Weddings-Ladies Pamper-Mothers Groups-Vouchers-
1929 Cadillac LaSalle Experience
Blue Mountains Limousines & Vintage Cadillacs
Blue Mountains Luxury Tours - Stretch Limousine, Caprice, 1929 Cadillac LaSalle
School Holidays Are Here!
Federation Gardens and Possums Hideaway
Family friendly, fully self contained cottages on offer
Enjoy a cottage in the Blue Mountains
Matildas Of Leura
Enjoy a comfortable stay in this delightful self-contained 3 bed cottage only minutes from Leura Mall
See also: