Blue Mountains News
Former Matilda, Leah Blayney, Coaches Mountains' Kids as part of Love Local Campaign
Source: Blue Mountains City Council
Posted: 12 Jul 2020
If we ever needed proof that the Blue Mountains can be a springboard to anything in the world, then Leah Blayney is the embodiment of that.
The Blue Mountains local started her soccer career at the age of six, playing for the Wentworth Falls Warriors. At the time, she was one of only two female players in the whole club.
Now, she is the current head coach of the U/20 National team the Young Matildas, and also the Head Coach of the Future Matildas program.
Watch Leah's free, online tutorials for beginner, intermediate and advanced soccer players at Blue Mountains City Council's Love Local Lessons.
The rise in women's soccer has been exponential around the world, with the 2019 women's tournament in France attracting over 1 billion viewers.
The recently announced 2023 FIFA Women's World Cup will see 32 international teams – and their fans – descend on Australia and New Zealand in what is predicted to be the biggest local sporting event since the Sydney 2000 Olympics.
"It's super exciting not just for female athletes but for all footballers in the country, boys and girls," says Leah. "For people to be able to see women play on the world stage will be a huge benefit for the whole community. The financial investment, and the excitement around it will be great for everyone."
After playing club soccer as a kid, Leah was selected for her first representative side at the age of 11. By 16, Leah was playing for the Matildas where she went on to compete in two Youth World Cups.
Over that time, Leah was a student at Katoomba High School where she juggled school work while also competing at tournaments overseas.
"My teenage years were unusual," says Leah. "The school were very supportive of my sporting endeavours. They helped me do school work while I was away. I even sat my HSC in Thailand."
After high school, Leah won a sports scholarship to the United States where she earned a degree in Education while also playing in both the US and Swedish professional leagues for the Boston Breakers and Eskilstuna United.
Then, at the age of 23, Leah suffered an ankle injury which forced her to retire from football. It was at this point that Leah decided to return to the Blue Mountains.
"When you have an injury you just want to be home," says Leah. "I have a strong family and I really felt the support of the Blue Mountains community when I returned. My family and that network helped me to re-evaluate at that time, and find a new direction."
That new direction turned out to be coaching and since then, Leah's contribution to the sport has only grown and diversified.
Leah attended both the 2016 Olympic Games in Brazil and the 2019 Women's World Cup in France, where she acted as an opponent analyst for the Matildas.
Aside from all this, Leah teaches full time at Westfields Sports High in Fairfield West, but she still makes time to teach emerging Mountains soccer players when she can.
"I've recently been doing a bit of training at Pitt Park," says Leah "and it's fantastic to see all the kids back training. It's exciting to see the new club house go up there too."
Leah says that the current coach for the Joey's, the National Boys Under 17s soccer team, is a former Springwood High school student so between the two of them, "the Blue Mountains have two national team coaches at the moment which is pretty cool."
When asked if she plans to leave the area to pursue her career elsewhere, Leah's answer is a firm no: "the Mountains is definitely where I want to stay. I love it here."
Go to Love Local Lessons to watch Leah's free, online tutorials. The lesson for beginners launched on 7 July. The intermediate lesson will be released on Tuesday, 14 July and the advanced lesson on Tuesday, 21 July.
Love Local Lessons: Supporting our community during COVID-19
Recent News
What's New
Trumans August Newsletter now available
Trumans Chartered Accountants
Has your Super got you covered for insurance? With COVID-19, maybe not ... read on
All occasion Beauty at your door
Glamour & Elegance Mobile Beauty
Pamper Events-Hens/bridal-Corporate-Kids Parties-Couples-Weddings-Ladies Pamper-Mothers Groups-Vouchers-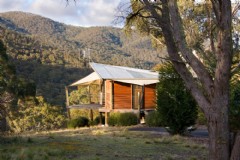 Indulge and relax in our Wilderness Spa
Eagle View Escape
Nestled amongst the trees, enjoy nature and the tranqility whilst soaking in your Spa bath.
Save $$$s off midweek multi-night stays
Valley of the Waters
Mon-Thurs Cliff View room $249 per double per night, or The Loft suite $269 including cooked or continental breakfasts
Romantic Escape Blue Mountains
Federation Gardens and Possums Hideaway
Three night midweek stay $600 in one of our Possums Cabins for Couples
See also: