Blue Mountains News
Exploring the Story Behind Evans Lookout
By John Paix
Johnsbluemountainsblog.blogspot.com.au
Archived 6 Jul 2015
- Posted: 12 May 2015
Lithgow-based blogger John Paix explores the story behind Evans Lookout. This is an edited version of a recent entry, with his thoughts on the history of one of the Blue Mountains' iconic lookouts.
Every Blue Mountains lookout has a story attached to it. Evans Lookout has one of the finest views of them all, but it's not the view we are interested in here.

The first questions which come to mind are these: who was George Evans and how does his name come to be attached to this lookout? Because we have recently celebrated the bicentenary of the first Blue Mountains crossing by the British settlers in NSW, many will be aware that Governor Macquarie sent out an expedition late in 1813 to follow up on the discoveries of Blaxland, Lawson and Wentworth. This was led by George Evans, assistant surveyor to John Oxley, who went on to the site of Bathurst and beyond. Be assured that this is a different George Evans from the one whose name is attached to the lookout.
The monument at the lookout has this inscription:
"This memorial was erected in memory of George Evans Esq. Solicitor of Sydney & London who was a pioneer of this district. He discovered this lookout and entrance to Grose Valley in the year 1882. Erected by his daughter Mrs E.E. MacLaurin 1932." This information appears to be accurate, except that it is unlikely that Evans was the first to discover the nearby access into the valley.
There are several valuable books you might like to locate. "Blackheath – Today from Yesterday" (produced by the Blackheath Rotary Club, 2005) is a great source of information on early Blackheath, including material on George Evans. "Back from the Brink" is the story of the Grose Valley and is a great read.
You can download a report on George Evans' Blackheath home "Cleopatra" from the Department of the Environment here. Another useful download from a blog called Dossier 48 (here) will also save me repeating a lot of material.
That Evans' country home had already been built in Blackheath by 1882 is beyond doubt. It's also clear from a report in the Nepean Times that a track ran from there to what is now known as Evans' Lookout. You can download this from Trove here. Also of interest is a map (probably dating from 1882) in the "Pictorial Guide to the Blue Mountains" by JEM Russell, which you can download from Trove here.
There is good reason to believe that, although Evans came across the site of the lookout in 1882, he was preceded by others who found the access into the Grose Valley, probably by way of the present Horse Track.
Evidence for this comes from two letters by one William Hayward, the first in The Sydney Morning Herald for Thursday 26th January 1860, page 8 (downloadable here). Hayward claims to have shown the route for the proposed railway line through the Grose Valley to the surveyors in 1857 or 1858. The second letter tells us that a route he used to get into the valley was near today's Evans Lookout. This letter is downloadable here. He states that he was last in the valley in 1849, a fact which is not inconsistent with the 1860 letter. Obviously, the way into the Grose Valley near Evans Lookout was known before George Evans came there in 1882.
Presumably Myles Dunphy named the nearby gully "Hayward Gully" in recognition of this man's feat.
Apparently it is only a coincidence that my uncle Philip Hayward and his family were living in the vicinity around the time that Dunphy was investigating the area (1950's).
YouTube:

Blue Mountains Walks: Evans Lookout Tracks Blackheath NSW Australia
This article archived 6 Jul 2015
Recent News
What's New
Katoomba Ghost Bus Tour
Blue Mountains Mystery Tours
Join Paranormal Pete on the Ghost Bus to investigate the reports of Ghosts & Hauntings in Blue Mountains. 0418 416 403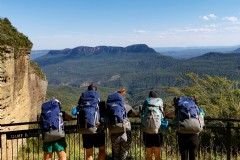 We are open!
Freeland Hiking Co.
Come and explore the mountains with us on a day-tour in the Blue Mountains.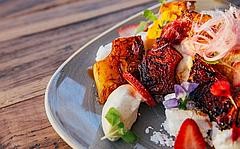 Lindsay's Cafe: Beautiful & Relaxing
Lindsay's Cafe
Join us for Breakfast or Lunch. Open from 9am weekends. 10am weekdays @ the Norman Lindsay Gallery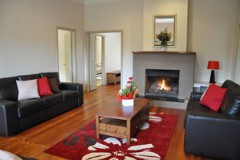 Autumn Getaway
Sophia's of Leura
Come and see the beautiful colours in Leura this Autumn. Book now for your escape.
Spa, slow combustion fire place, BBQ
Blue Gum House
$480 special this weekend for 2 adults, linen included. + $30 per additional person, per night !
See also: