Blue Mountains News
Enova Community Energy Expanding Across NSW
Source: Enova
Archived 20 Nov 2018
- Posted: 25 Sep 2018
NSW households and businesses will soon be able to join the community-led renewable energy revolution with Australia's first community owned energy retailer, Enova Community Energy, looking to expand across the state.

Enova is using equity crowdfunding to fund its growth across New South Wales and into Queensland, Victoria and South Australia as part of its community-led transition towards renewable energy.

"Two years on from obtaining our licence and starting up in northern NSW, funded by individuals, families and community organisations from around Australia, Enova achieved our target customer numbers of 5000, including 300 local businesses, and hit $5.2 million in annual revenues," Enova Chair Alison Crook AO said.

"Now, Enova is scaling up to replicate our model across the state, expanding into more local communities throughout NSW to drive a renewables revolution. We are tracking towards a 100% renewable model where local homes and businesses produce, consume and share Australia's abundant solar resource, supported by other sources of renewables and batteries to support and secure the transition."

"Our profits will be shared between our investors and our non-profit arm that installs renewables in low income housing, delivers energy efficient services and energy education, and co-designs innovative local renewable energy generation projects including enabling NSW renters to participate in a rejuvenated and competitive clean energy market."

Enova has partnered with Crowd88 to facilitate the crowd-sourced funding approach and Enova Managing Director Tony Pfeiffer said the NSW appetite for renewables continues to grow.

"The energy market is ripe for disruption and Enova Energy is proud to be leading the way," Mr Pfeiffer said. "While it is possible for retail investors to invest up to $10,000 under the equity crowdfunding rules, our aim with this share offer with a minimum subscription of $100 is to encourage as many people as possible to invest in Enova and help drive a community-led energy transition."

"A future powered by renewable energy, shared within communities and generated as locally as possible to minimise waste and costs is within our grasp."

Mr Pfeiffer said Enova's three strategic priorities are:
Reduce the cost of wholesale energy (Enova is negotiating a Power Purchase Agreement backed by renewable growth over the next two years with stable pricing that reduces our wholesale energy costs and allows us to ensure our products are priced attractively, including for people who can't afford solar panels or are not able to install them because they live in apartments or rent)
Accelerate growth of customer base across New South Wales as well as Queensland, Victoria and South Australia
Develop strategic partnerships.
The crowd funding closes on October 4, 2018.

This article archived 20 Nov 2018
Recent News
What's New
Katoomba Ghost Bus Tour
Blue Mountains Mystery Tours
Join Paranormal Pete on the Ghost Bus to investigate the reports of Ghosts & Hauntings in Blue Mountains. 0418 416 403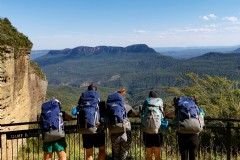 We are open!
Freeland Hiking Co.
Come and explore the mountains with us on a day-tour in the Blue Mountains.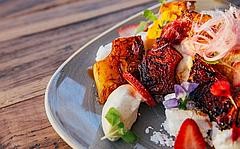 Lindsay's Cafe: Beautiful & Relaxing
Lindsay's Cafe
Join us for Breakfast or Lunch. Open from 9am weekends. 10am weekdays @ the Norman Lindsay Gallery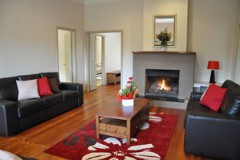 Autumn Getaway
Sophia's of Leura
Come and see the beautiful colours in Leura this Autumn. Book now for your escape.
Spa, slow combustion fire place, BBQ
Blue Gum House
$480 special this weekend for 2 adults, linen included. + $30 per additional person, per night !
See also: