Blue Mountains News
Enjoy a Movie these School Holidays
Source: Glenbrook Cinema
Posted: 24 Dec 2020
Visit the newly reopend Glenbrook Cinema these School Holidays for the best choc-tops in town which you'll find in the refurbushed candy bar along with the freshest popcorn and a small selection of wine.
The following information was sourced from Glenbrook Cinema and each film's official website. All details contained in this article were correct at the time of publishing. Please check the cinema website for updates.
Try the following movies at your local cinema this summer:
Misbehaviour (M)
Wonder Woman 84 (M)
A Christmas Gift From Bob (PG)
Love Opera (CTC)
The War With Grandpa (PG)
Dreambuilders (PG)
The Witches (M)
The Flood (MA)
The Croods: A New Age
The Dry (MA)
Misbehaviour (M)
Now Showing 24 - 30 December 2020
A group of women hatch a plan to disrupt the 1970 Miss World beauty competition in London. Starring Keira Knightley, Gugu Mbatha-Raw, Jessie Buckley, Keeley Hawes, Phyllis Logan, with Lesley Manville, Rhys Ifans and Greg Kinnear.
Wonder Woman 84 (M)
Screening 26 Dec to 13 Jan
Fast forward to the 1980s as Wonder Woman's next big screen adventure finds her facing two all-new foes: Max Lord and The Cheetah. The new era of Wonder Woman begins here.
A Christmas Gift From Bob (PG)
Screening 31 Dec to 6 Jan
A Christmas-themed follow-up to A Streetcat Named Bob. Based on the book by former Big Issue seller James Bowen, the first film told the story of how a stray ginger cat changes the life of Bowen (Luke Treadaway), a homeless London street musician and recovering drug addict. A Christmas Gift from Bob sees Bowen looking back at the last Christmas he and Bob spent scraping a living on the streets and how Bob helped him through tough times by providing strength, friendship and inspiration.
Love Opera (CTC)
Screening 2 to 6 Jan
What does it take to become an opera singer? A fresh, intimate view of the opera as young singers from Lisa Gasteen's world famous national opera prepare for a performance of Carmen.
The War With Grandpa (PG)
Screening 7 to 13 Jan
Sixth-grader Peter (Oakes Fegley) is pretty much your average kid—he likes gaming, hanging with his friends and his beloved pair of Air Jordans. But when his recently widowed grandfather Ed (Robert De Niro) moves in with Peter's family, the boy is forced to give up his most prized possession of all, his bedroom. Unwilling to let such an injustice stand, Peter devises a series of increasingly elaborate pranks to drive out the interloper, but Grandpa Ed won't go without a fight. Soon, the friendly combatants are engaged in an all-out war with side-splitting consequences.
Dreambuilders (PG)
Screening 7 to 27 Jan
Dreambuilders centers on Minna, a young girl who misuses her newfound ability to create and control other people's dreams to teach her bothersome stepsister a lesson.
The Witches (M)
Screening 14 to 20 Jan
Reimagining Dahl?s beloved story for a modern audience, Zemeckis?s visually innovative ?The Witches? tells the darkly humorous and heartwarming tale of a young orphaned boy (Bruno) who, in late 1967, goes to live with his loving Grandma (Spencer) in the rural Alabama town of Demopolis. The boy and his grandmother come across some deceptively glamorous but thoroughly diabolical witches, so Grandma wisely whisks our young hero away to an opulent seaside resort. Regrettably, they arrive at precisely the same time that the world?s Grand High Witch (Hathaway) has gathered her fellow cronies from around the globe - undercover - to carry out her nefarious plans.
The Flood (MA)
Screening 14 to 20 Jan
Set during WWII this is the story of Jarah's coming-of-age in a brutal and lawless land - growing from a sweet child to a strong, independent and ferocious woman taking on Australia's corrupt and bigoted system one bad guy at a time. In the best tradition of the gunslinging outlaw, when the enigmatic Jarah is pushed to the limit she explodes in a fury of retribution. But for a revenge western there is a surprising series of twists and turns.
The Croods: A New Age (PG)
Screening 14 to 27 Jan
The Croods need a new place to live. So, the first prehistoric family sets off into the world in search of a safer place to call home. When they discover an idyllic walled-in paradise that meets all their needs, they think their problems are solved … except for one thing. Another family already lives there: the Bettermans.
The Dry (MA)
Screening 21 Jan to 3 Feb
Federal Agent Aaron Falk returns to his home town after an absence of over twenty years to attend the funeral of his childhood friend, Luke, who allegedly killed his wife and child before taking his own life – a victim of the madness that has ravaged this community after more than a decade of drought. When Falk reluctantly agrees to stay and investigate the crime, he opens up an old wound – the death of 17- year-old Ellie Deacon. Falk begins to suspect these two crimes, separated by decades, are connected. As he struggles to prove not only Luke's innocence but also his own, Falk finds himself pitted against the prejudice towards him and pent-up rage of a terrified community.
Glenbrook Cinema is a single screen, independent, family owned cinema situated on the corner of the Great Western Highway and Ross Street at Glenbrook, next to the Glenbrook Visitor Information Centre.
Recent News
What's New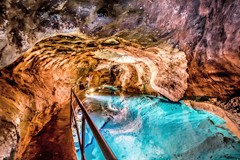 5 Caves Open with Small Tour Groups
Jenolan Caves
Booking Essential. Bring a facemask and enjoy exclusive small tour groups.
All occasion Beauty at your door
Glamour & Elegance Mobile Beauty
Pamper Events-Hens/bridal-Corporate-Kids Parties-Couples-Weddings-Ladies Pamper-Mothers Groups-Vouchers-
1929 Cadillac LaSalle Experience
Blue Mountains Limousines & Vintage Cadillacs
Blue Mountains Luxury Tours - Stretch Limousine, Caprice, 1929 Cadillac LaSalle
School Holidays Are Here!
Federation Gardens and Possums Hideaway
Family friendly, fully self contained cottages on offer
Enjoy a cottage in the Blue Mountains
Matildas Of Leura
Enjoy a comfortable stay in this delightful self-contained 3 bed cottage only minutes from Leura Mall
See also: