Blue Mountains News
Echoes Serves Lindsay Lunch Musing
Source: Deep Hill Media
Archived 26 Jun 2019
- Posted: 28 Apr 2019
Blue Mountains actresses are invited to audition to play muse, nurturer, creative force and "feminine dominant" Rose Lindsay in a monthly artistic theatre lunch event at Echoes Restaurant from May to October.
The event will be part of the new Art of Lunch series to be held simultaneously at five Blue Mountains restaurants every last Sunday from May 26 and October 27, featuring a different theme, exhibition and performance at each venue.
The works of Norman Lindsay will be showcased at Escarpment Group-owned Echoes Restaurant in Katoomba by Norman Lindsay Gallery under the theme Blue Mountains Bohemia, during which his wife and muse Rose will make a theatrical appearance in period costume to deliver a series of vignettes drawn from her memoir, Model Wife, evoking the Lindsay's artistic bohemian lifestyle.
Escarpment Group head chef Saran Sasikumar will dream up an exotic menu with a mysterious Magic Pudding.
After the sumptuous meal there will be a 30-minute concert with a musician, varying each month starting the season with jazz giant James Greening and concluding with classical composer/musician Me-Lee Hay.
Norman Lindsay has a lasting reputation as the Blue Mountains' most luminary and controversial artist, although he does not overshadow his second wife Rose – his muse, model, wife and mother of their two daughters.
Rose was also an exceptional printmaker and archivist who editioned Norman's etchings, as well as an astute business manager.
The couple's granddaughter Helen Glad wrote: "Rose Lindsay's commanding personality assured she would never be overwhelmed by her husband's genius or that of anyone else.
"A forthright individual all her life, she personified Norman's concept of the `feminine dominant' - woman as nurturer and creative force.
"Rose was essential to his continuing and prodigious creative output. Rose stood in no one's shadow – during her long life she made sure she was acknowledged. She survived many things, all without loss of dignity or style."
Auditions for the role of Rose Lindsay will be held at Norman Lindsay Gallery, 14 Norman Lindsay Cres, Faulconbridge, at noon on Sunday, May 5.
The actress must be available to perform each last Sunday of the month between May and October 2019 at the Art of Lunch at Echoes Restaurant, Katoomba.
The actress will be paid for performances and rehearsals.
Contact meg @ Art of Lunch by close of business May 2 to express interest in the audition.
The Art of Lunch project was created by Earthly Delights Events and has received funding from the Federal Government's Building Better Regions Fund, as well as support from local enterprises such as Scenic World and BMR Accounting. Details.
The Art of Lunch will be held at Echoes Restaurant & Bar, Lilianfels Ave, Katoomba, the last Sunday of each month from May to October 2019.
Bookings available online or 4782 1966.
This article archived 26 Jun 2019
Recent News
What's New
Katoomba Ghost Bus Tour
Blue Mountains Mystery Tours
Join Paranormal Pete on the Ghost Bus to investigate the reports of Ghosts & Hauntings in Blue Mountains. 0418 416 403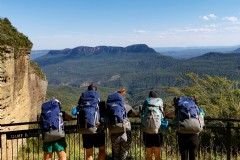 We are open!
Freeland Hiking Co.
Come and explore the mountains with us on a day-tour in the Blue Mountains.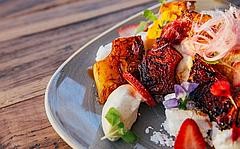 Lindsay's Cafe: Beautiful & Relaxing
Lindsay's Cafe
Join us for Breakfast or Lunch. Open from 9am weekends. 10am weekdays @ the Norman Lindsay Gallery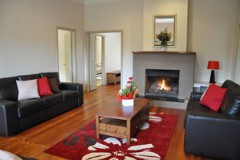 Autumn Getaway
Sophia's of Leura
Come and see the beautiful colours in Leura this Autumn. Book now for your escape.
Spa, slow combustion fire place, BBQ
Blue Gum House
$480 special this weekend for 2 adults, linen included. + $30 per additional person, per night !
See also: