Blue Mountains News
Debut Album Launch at Hotel Blue Katoomba
Source: Geoff Sirmai Arts Publicity
Archived 3 Jul 2019
- Posted: 5 May 2019
Multi-lingual world music singer, composer & lyricist, Evelyne Weltlinger, launches her debut CD at Hotel Blue in Katoomba on Saturday 18 May.
Following her sell-out debut at Camelot's intimate Django Bar in Marrickville last month, Evie comes to the Blue Mountains.
"Songs of My Heart" features joyful, soulful and always tuneful Yiddish songs with Evelyne's original lyrics in French and English, as well as evergreen classics, and her own expressive compositions in an exotic mix of languages.
Evelyne (Evie) Weltlinger's debut album is, by her own admission, a celebration of her 'coming out' as a singer. Born in Casablanca, Morocco, she came to Australia as a child, speaking only French, although a mishmash of German, Yiddish and later English, also rang through the home. The sounds of these languages, as well as classical and French music, with her father's beautiful violin playing, continuously surrounded and influenced her. She sang in various youth groups, and desperately wanted to become a singer. However, her parents disapproved and – like so many young women of her generation – she went instead to university, and became a (much loved!) high school French & English teacher.
10 years ago, after career, marriage, parenthood (including being mother to two accomplished artists), the music burst through! Since then, Evelyne has performed in various venues in Sydney – including at Sydney's iconic world music venue Camelot – as well as in Germany and France - and always with an outstanding line-up of musicians, foremost among them her talented, internationally renowned violinist son Daniel!
Last year she recorded Songs of My Heart in Berlin, accompanied by Daniel and outstanding European musicians, including her famous mentor and friend, Karsten Troyke, (who also produced this fine recording).
Now – appropriately – she returns to Camelot's intimate Django Bar to launch the debut CD on Sunday 14 April – in the company of Berlin-based Daniel Weltlinger… and a stellar band of local world-music musicians including Marcello Maio, accordion/piano; Cameron Jones, guitar; and Mark Harris, bass.
---
EVELYNE WELTLINGER – Songs of My Heart
Date:
Saturday 18 May
Time:
6.30pm
Venue:
Hotel Blue, 18 Lurline St, Katoomba
Tickets:
Please visit the website or call: 4782 6922
This article archived 3 Jul 2019
Recent News
What's New
Katoomba Ghost Bus Tour
Blue Mountains Mystery Tours
Join Paranormal Pete on the Ghost Bus to investigate the reports of Ghosts & Hauntings in Blue Mountains. 0418 416 403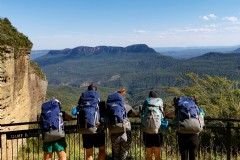 We are open!
Freeland Hiking Co.
Come and explore the mountains with us on a day-tour in the Blue Mountains.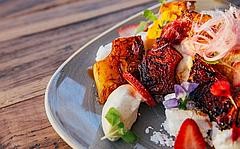 Lindsay's Cafe: Beautiful & Relaxing
Lindsay's Cafe
Join us for Breakfast or Lunch. Open from 9am weekends. 10am weekdays @ the Norman Lindsay Gallery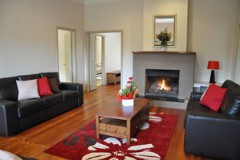 Autumn Getaway
Sophia's of Leura
Come and see the beautiful colours in Leura this Autumn. Book now for your escape.
Spa, slow combustion fire place, BBQ
Blue Gum House
$480 special this weekend for 2 adults, linen included. + $30 per additional person, per night !
See also: