Blue Mountains News
Council Waives 2021 Winter Sports User Fees to Support Local Sports Groups
By Blue Mountains City Council
Posted: 24 Dec 2020
Blue Mountains City Council will continue to support the community through the COVID-19 pandemic by waiving sports user fees for the upcoming 2021 Winter Sports season.
The decision was made yesterday under Joint Delegation by Mayor Mark Greenhill and Blue Mountains City Council CEO, Rosemary Dillion.
The move will result in an estimated $45,000 saving for local sports groups.
Blue Mountains City Council previously decided to waive the sports user fees for the 2020 Winter season and the 2020/21 Summer season in recognition of how the last bushfire season and COVID-19 shutdowns had limited the ability of local sports groups to generate income.
Mayor Mark Greenhill said "The pandemic has led to many members of our community becoming increasingly social isolated.
We recognise what a pivotal role community sport plays in allowing the people to reconnect, and what difficult times our community is continuing to go through.
For this reason we will continue to waiver sports user fees this winter."
Photo: Mayor Mark Greenhill at Glenbrook Oval
Recent News
What's New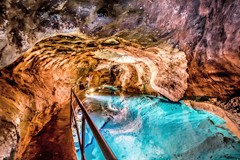 5 Caves Open with Small Tour Groups
Jenolan Caves
Booking Essential. Bring a facemask and enjoy exclusive small tour groups.
All occasion Beauty at your door
Glamour & Elegance Mobile Beauty
Pamper Events-Hens/bridal-Corporate-Kids Parties-Couples-Weddings-Ladies Pamper-Mothers Groups-Vouchers-
1929 Cadillac LaSalle Experience
Blue Mountains Limousines & Vintage Cadillacs
Blue Mountains Luxury Tours - Stretch Limousine, Caprice, 1929 Cadillac LaSalle
School Holidays Are Here!
Federation Gardens and Possums Hideaway
Family friendly, fully self contained cottages on offer
Enjoy a cottage in the Blue Mountains
Matildas Of Leura
Enjoy a comfortable stay in this delightful self-contained 3 bed cottage only minutes from Leura Mall
See also: