Blue Mountains News
Cinema Celebrates 50 Years with Festival and Gala Event
Archived 9 Jan 2019
- Posted: 12 Nov 2018
Since 1968 Glenbrook Cinema has been showcasing quality films for the local community. To mark this special 50 year milestone Glenbrook Cinema is inviting you to help celebrate this remarkable achievement by experiencing the magic of Glenbrook Cinema with some classic movies returning to the big screen in their Festival of Favourite Films.
This is an ambitious festival featuring 19 different classics all for just $10 per movie. The festival runs from Wednesday 28th November through to Wednesday 5th December.
In addition to Glenbrook Cinema's Festival of Favourite Films, the cinema is kicking off the celebrations with a special Red Carpet Gala Event on Tuesday 27th November at 6:30pm featuring live entertainment, drinks and canapes, followed by an exclusive viewing of a Movie Premiere scheduled for release next year. Tickets are only $30 per person for the Gala Event and will be on sale via the cinema's website from this Tuesday night.
Below is a complete list of the classic movies screening within the Festival of Favourite films:
---
Festival Movies
---
North By Northwest

28 Nov 2018

Fully restored in super high definition 4K DCP format. A middle-aged Madison Avenue advertising executive is mistaken for a government agent by a gang of spies. He gets involved in a series of misadventures and is pursued across the States by both the sp (2hr 20min)

View trailer & more »
---
Singin in the Rain

28 Nov 2018

Gene Kelly, Debbie Reynolds When the transition is being made from silent films to `talkies', everyone has trouble adapting. Don and Lina have been cast repeatedly as a romantic couple, but when their latest film is remade into a musical, only Don has the voice for the new singing part. After a lot of practise with a diction coach, Lina still sounds terrible, and Kathy, a bright young aspiring actress, is hired to record over her voice. (1hr 45min)
View trailer & more »
---
The Graduate

28 Nov 2018

Dustin Hoffman, Kathryn Ross, Anne Bancroft (1hr 50min)

View trailer & more »
---
To Kill A Mockingbird

28 Nov 2018
and 30 Nov 2018

Atticus Finch, a lawyer in the Depression-era South, defends a black man against an undeserved rape charge, and his kids against prejudice. (2hr 11min)

View trailer & more »
---
2001: A Space Odyssey

29 Nov 2018

Stanley Kubrick's masterpiece, first screened in 1968. An imposing black structure provides a connection between the past and the future in this enigmatic adaptation of a short story by revered sci-fi author Arthur C. Clarke. When Dr. Dave Bowman (Keir Dullea) and other astronauts are sent on a mysterious mission, their ship's computer system, HAL, begins to display increasingly strange behavior, leading up to a tense showdown between man and machine that results in a mind-bending trek ... (2hr 15min)
View trailer & more »
---
The Sting

29 to 30 Nov

Paul Newman, Robert Redford. Following the murder of a mutual friend, aspiring con man Johnny Hooker (Robert Redford) teams up with old pro Henry Gondorff (Paul Newman) to take revenge on the ruthless crime boss responsible, Doyle Lonnegan (Robert Shaw). Hooker and Gondorff set about implementing an elaborate scheme, one so crafty that Lonnegan won't even know he's been swindled. As their big con unfolds, however, things don't go according to plan, requiring some last-minute improvisation ... (2hr 10min)
View trailer & more »
---
The Producers

30 Nov 2018

Max Bialystock, a washed-up producer of musical theatre, concocts a get-rich-quick scheme with his accountant Leo Bloom. After raising way more money than they need from the old lady investors, the due will stage the worst show Broadway has ever seen "Springtime for Hitler". (1hr 30min)

View trailer & more »
---
The Bridge on the River Kwai

30 Nov 2018

David Lean's epic movie. British POWs are ordered by their Japanese captors to construct a bridge of strategic importance and are happy to sabotage and delay the progress until their commanding officers orders them to continue the work unhindered to its completion, but are his actions tantamount to collaborating with the enemy? (2hr 50min)
View trailer & more »
---
My Fair Lady

1 Dec 2018

Rex Harrison and Audrey Hepburn in a loverly musical (3hr 04min)

View trailer & more »
---
Babe

1 Dec 2018

A talking pig learns how to herd sheep (1hr 33min)

View trailer & more »
---
Titanic

1 Dec 2018

Solving the mystery of relationships aboard the doomed luxury cruise vessel. (3hr 15min)

View trailer & more »
---
The Red Shoes

2 Dec 2018

A young ballerina and her conflict between love and career. Including the magnificent Red Shoes ballet based on the classic Hans Christian Anderson fairy tale. Moira Shearer, Robert Helpmann In this classic drama, Vicky Page (Moira Shearer) is an aspiring ballerina torn between her dedication to dance and her desire to love. While her imperious instructor, Boris Lermontov (Anton Walbrook), urges to her to forget anything but ballet, Vicky begins to fall for the charming young composer Julian Craster ... (2hr 14min)
View trailer & more »
---
The Sound of Music

2 Dec 2018

New digital copy of the Rogers & Hammerstein's musical. A woman leaves an Austrian convent to become a governess to the children of a Naval officer widower. Intermission 1.42, 4 mins play-in to part 2.No overture, intermission title 1:42, entreact. (3hr 04min)

View trailer & more »
---
Funny Girl

3 Dec 2018

Barbara Streisand, Omar Shariff (2hr 35min)

View trailer & more »
---
Out of Africa

3 to 4 Dec

Meryl Streep, Robert Redford (2hr 45min)

View trailer & more »
---
An American in Paris

4 Dec 2018

Gene Kelly, Leslie Caron in a musical with Tunes by Gershwin. Jerry Mulligan (Gene Kelly) is an American ex-GI who stays in post-war Paris to become a painter, and falls for the gamine charms of Lise Bouvier (Leslie Caron). However, his paintings come to the attention of Milo Roberts, a rich American heiress, who is interested in more than just art. Includes great dance sequences. (1hr 55min)
View trailer & more »
---
The Lion in Winter

5 Dec 2018

Kathryn Hepburn. Peter O'toole (2hr 15min)

View trailer & more »
---
Doctor Zhivago

5 Dec 2018

Classic Movie. David Lean's film of the famed Russian romance. During the Russian Revolution, Yuri Zhivago (Omar Sharif), is a young doctor who has been raised by his aunt and uncle following his father's suicide. Yuri falls in love with beautiful Lara Guishar (Julie Christie), who has been having an affair with her mother's lover, Victor Komarovsky (Rod Steiger), an unscrupulous businessman. Yuri, however, ends up marrying his cousin, Tonya (Geraldine Chaplin). But when he and ... (3hr 17min)
View trailer & more »
---
Breakfast at Tiffanys

5 Dec 2018

A young New York socialite becomes interested in a young man who has moved into her apartment building.Adult themes. (2hr 00min)

View trailer & more »
---
This article archived 9 Jan 2019
Recent News
What's New
Does your Super cover insurance?
Trumans Chartered Accountants
Has your Super got you covered for insurance? With COVID-19, maybe not ... read on
All occasion Beauty at your door
Glamour & Elegance Mobile Beauty
Pamper Events-Hens/bridal-Corporate-Kids Parties-Couples-Weddings-Ladies Pamper-Mothers Groups-Vouchers-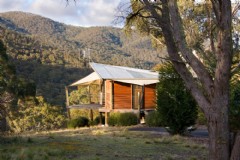 Indulge and relax in our Wilderness Spa
Eagle View Escape
Nestled amongst the trees, enjoy nature and the tranqility whilst soaking in your Spa bath.
Save $$$s off midweek multi-night stays
Valley of the Waters
Mon-Thurs Cliff View room $249 per double per night, or The Loft suite $269 including cooked or continental breakfasts
Romantic Escape Blue Mountains
Federation Gardens and Possums Hideaway
Three night midweek stay $600 in one of our Possums Cabins for Couples
See also: