Blue Mountains News
Best Things To Do in the Blue Mountains
Source: Walk My World
Archived 10 Mar 2018
- Posted: 15 Jan 2018
Cat and Joe from Walk My World are two travel fanatics originally from the UK. They started travelling together in 2012 and have called Australia home since 2013. They especially love visiting the Blue Mountains and have shared their "Best Things to do in the Blue Mountains" with us:
Best Things To Do in the Blue Mountains
We love the Blue Mountains and if a month goes past and we haven't visited, we really start to miss it. It's in our top five places that everyone visiting Australia should see, it's that good!
It's not just the beautiful views and the amazing hiking trails, it's also the people and the vibe. It's really easy to get there from Sydney, even if you don't have a car, the train runs to many of the major towns along the way. Don't miss one of the most spectacular parts of Australia.
Best Things To Do
Hike, hike, hike!
The Blue Mountains are home to some of our favourite walking tracks in the world. There's something for everyone, from short easy paved 20 minute jaunts to full on all day adventures. Here's a few of the best:
Easy Hikes
All these tracks are one way so either retrace your steps or organise a lift from the other end.
The Charles Darwin Walk
5km return walk, very little elevation and the path is in very good condition.
Follow in the footsteps of Charles Darwin on this short, but stunning 2.5km track. You pass gorgeous streams and are surrounded by trees as you cross over bridges and boardwalk.
This is the walk we always take our parents on as it's very picturesque, but not too arduous. It's the ideal trail to get away from busier parts of the Blue Mountains and get a taster for that mountain wildernes.
The walk finishes very close to Wentworth Falls so if you want to extend the track you can. It's also accessible from the train station.
Getting there: The Charles Darwin track is not far from Wentworth Falls. You can start from the train station or drive to Wilson Park.
Three Sisters to Katoomba Falls
3.1 km return walk, very little elevation and fully paved track.
It might be a crime to go to the Blue Mountains and not take in the Three Sisters, the most iconic view in this whole area. And you might as well add in a small stroll while you're there.
This is the classic Katoomba walk starting at the Three Sisters Lookout at Echo Point. It's a really easy walk and only 1.5km along the Prince Henry Cliff Track. The path is paved and while there are a few staircases, it would be suitable for most people.
Three Sisters, Blue Mountains
The track finishes at Katoomba Falls, which are beautiful if it's rained recently. The views of the Jamison Valley are present throughout the whole trail and it's a great way to get a taster of the Blue Mountains.
Getting there: Paid for parking is plentiful around Echo Point (Three Sisters), so it's easy to drive to the start of the trail, and it's only five minutes from the centre of Katoomba. You can also walk here from Katoomba train station, though it adds an extra half hour to the walk.
Pulpit Rock Walking Track
7.6km return, moderate elevation, some uneven sections of trail.
If you're looking for the best view in the Blue Mountains (a rock shaped like a church pulpit in the middle of a huge valley) then this is the hike for you. The Pulpit Rock Track starts at Govetts Leap and winds down a few staircases before reaching a creek crossing. It then passes several viewpoints, including one that looks out to Horseshoe Falls.
Once you've crossed the creek you'll be greeted with stunning views of the valley and mountains that continue along the whole track. After 3.5 km you eventually reach the main attraction: Pulpit Rock.
This is definitely one of the best lookouts in the mountains and really shouldn't be missed. It's so good, it made our most instagrammable places in the Blue Mountains list.
Getting there: Pulpit Rock Track starts at Govett's Leap Lookout. It's possible to get the train to Blackheath, but it will require an additonal 40 minute walk to the start! The best way is to drive to the start.
Moderate Hikes
Grand Canyon Track
5.4km circuit, moderate - steep elevation (particularly at beginning and end), very good track condition throughout.
When you think of the Grand Canyon, it's unlikely you'd think of the Blue Mountains! However, the Grand Canyon Loop near Blackheath is one of the most picturesque tracks in the area, covering a variety of landscapes.
Whenever I've posted photos or videos from this track the comment that always comes up is that it looks like a fairy grotto. And it does feel like that, it's a pretty magical place.
The 5.4km circuit starts at the gorgeous Evans Lookout before heading steeply downhill on a newly renovated stretch of track (thanks NSW National Parks) to the canyon. It's a very beautiful area with moss covered cliffs and an abundance of gorgeous ferns and streams.
The track is very well shaded so it's a good choice for a summer's day. It doesn't have the big views of some of the other walks in this list, it's more about soaking up the atmosphere of the canyon. We've walked it many times and it's definitely one of our favourites.
Getting there: The easiest way to get to the Grand Canyon Loop Track is to drive to Evan's Lookout. An alternative is to take a bus from Katoomba which won't get you right to the lookout but will get you within a 10 minute walk of it.
Govett's Leap Loop
9km circuit, moderate elevation, some patches of track which aren't in perfect condition.
If you love big views, then this is the trail for you. The view from Govetts Leap to the Grose Valley is a stunner and reason alone to do this trail.
You can start this loop at Pope's Glen or Braeside but we always choose Pope's. It's a beautiful stretch of track absolutely covered in ferns which meander over streams and past a couple of little beaches before you begin ascending to Govett's Leap Lookout.
You pass many of the most famous lookouts in the mountains, as well as some lesser known ones too and several waterfalls. The total track length is 9km and while there are a few ups and downs, the overall elevation is not too bad.
Getting there: You can start the Govett's Leap Loop track from Blackheath train ststion but it does add on a few kms. If you choose to drive, the best spot to park is Blackheath Glen Tourist Park and walk to Pope's Glen from there (approx five minutes).
The National Pass (Currently Closed)
5km circuit, very steep start and finish, track condition throughout is very good.
Sadly this trail has temporarily closed due to some loose overhanging rock, but will reopen again in the near future.
If you only have time for one walk in the mountains I'd make it this one. It is the oldest track in the area and was constructed to attract visitors at the turn of the 20th Century.
The track is carved into the cliffside of the valley and you are never without a spectacular view. You pass several of the most famous waterfalls in the mountains, including Wentworth Falls and Empress Falls. Empress is a great place to get your breath back before the final climb out of the valley, there's usually plenty of canyoners to watch.
The walk begins on a steep downhill track carved straight into the rock, followed by some easy rock hopping across waterfalls and a large period of flat trail. Every time we've walked this track it always feels like you've entered the Jurassic period with loud squawking Sulphur Crested Cockatoos calling and swooping through the trees.
What goes down must eventually come up and after you pass several more waterfalls you begin the ascent. There are plenty of beautiful lookouts to stop and catch your breath. The walk ends at the Conservation Hut which is a gorgeous cafe where you can grab a drink or some lunch, needless to say it has a terrific view.
If you want to make this track a loop there are a couple of options, the shortest would be to take the short cut track back to the Wentworth Falls car park. Ignore the time on the sign post, it only takes around 15 minutes at a brisk pace. The total track length is around 5.5km.
Getting there: The National Pass starts at Wentworth Falls Lookout. You can get there by walking from Wentworth Falls train station (approx 30 minutes) or by driving to the lookout. Parking is hard to come by, so be prepared to park on the road leading to the lookout.
Hard Hikes
Our Ultimate Combo Track
16km, very steep sections, the track has several parts which are in poor condition (rocks/rubble).
If you're looking to really stretch your legs with some serious climbs, then you'll want to read on. This is a trail we have created by combining a couple of different tracks (Govett's Leap Loop, Junction Rock track, The Grand Canyon, returning via the clifftop trail at Evans Lookout). It's one of our favourite walks within two hours of Sydney.
Starting at Govett's Lookout for a great view of the Grose Valley, you'll soon descend down several steep staircases to the valley floor. Once you've got to Junction Rock (a great place to take a dip in warmer weather), you reach the beautiful Blue Gum Forest.
You can camp in the designated camp site if you want to make this a two day adventure. You then begin ascending and after a fair amount of continuous uphill you join the Grand Canyon hike (a very beautiful part of the Blue Mountains).
The first time we did this there was a lot of rock scrambling and certain sections were roped but on our second attempt the trail had been pretty sanitised and ropes were no longer required.
You follow the Grand Canyon track up to Evans Lookout and head back to Govett's Lookout via the Cliff Top Track (a trail we always remember as being easy but it feels a lot harder after you have already gone up so many stairs!)
The uneven ground on the climb up to the Grand Canyon makes this walk a lot slower than you'd think, but the feeling of getting back to Govett's Leap is rewarding.... even if your calves suffer for the next two days!
Getting there: This trail can start at either Govett's Leap Lookout or Evans Lookout. You can do this by public transport, starting at Blackheath train station, but your legs won't appreciate the extra kms after a hefty hike. It would be easier to take the bus from Katoomba which gets you very close to the start and end of the walk.
Perrys Lookdown
4.2km, continuously steep! (it's why you're doing this), good track condition throughout.
If you read anything about Perry's Lookdown online, you'll feel the anguish of those who take it on! If you're a glutton for punishment and want to tackle the steepest trail in the mountains, then this is your hike.
To put it in context we met people training for Anconcagua walking it. They were load carrying but you know, minor details. It's pretty much a straight down straight up walk, 600m elevation over 2km.
It was one of our training walks for the Humpridge Track and put us in good stead for the steep first day climb on that trail. The reward of Perry's Lookdown comes at the bottom, as the Blue Gum Forest is magical (one of my favourite forests in Australia) and you should spend some time soaking it up.
You can even camp just a 10 minute walk away if you want to get away from it all. You'll feel the burn on the way up and pat yourself on the back at the top.
Getting there: You can drive the start of the trail, but it includes a dirt track. We've done this in a Kia Rio, so you don't need to worry about the road condition.
Scenic World to Ruined Castle
12.4 km return, steep beginning and end, very good track condition.
Start this track at Scenic World and head down the thousand or so Furber Steps onto the boardwalk that meets the SW train. Lookout for the signpost to ruined castle which will be on your right. The trail makes its way through bush land and traverses the landslide. No explanation needed for what this is, just take care with footing.
The views are remarkable. From the boardwalk it's around 6km to the castle. I found getting up onto the castle (large rock formation) a little bit tricky, if you can't see the obvious route up, ask someone, there's always someone who can help and a few of the routes up are a bit precarious if you're clumsy like me. This is a one way track, the only way of shortening it is to take the Scenic World train rather than climbing up the Furber Steps. If you want to take this option the last train goes at 4.50pm but to be honest it's really expensive ($16) so you're better off going up the steps.
Getting there: This trail starts at Scenic World where there is free parking available. You can walk from Katoomba train station, but it adds an additional 30 minute walk each way.
Other Activities
Jenolan Caves

We've visited three of the caves at Jenolan and all of them are extremely beautiful. Apparently Queen Victoria even asked for a picture of them as a gift such was their famed beauty. Of the three, Orient, Lucas and River, our favourite was River.
They say this is one of the more strenuous ones but really it was very easy, there are a couple of ladders but not scary ones unless you have severe vertigo. Orient and Lucas are suitable for all ages, we took our niece and nephew, the youngest of which was only four at the time.
You might even get to see a wallaby in one of the caves!
The setting for Jenolan is also very beautiful, you'll see what we mean as soon as you get to the driveway. There are several walking tracks, the best of which is the riverside walking track, a 3km round trip. It's a flat walk and very scenic, we were lucky enough to see swamp wallabies there.
If you have time it's also worth taking the short steep climb to Carlotta Arch for a great view of the lake and Devil's Coach House. The track is 1km return. We followed it a little further and came across many lyrebirds.
If you have the time Jenolan Cave House is a great place to spend the night. It's extremely atmospheric, especially when we visited in the mist and rain. The hotel is still very traditional and has a lovely onsite restaurant for dinner.
We had a private room with a shared bathroom which was a bargain at $80. We took a peek at the rooms with private bathrooms which were over twice the price and we were happy with our choice. The shared bathroom was really clean and there were quite a few of them on our floor so there was never a wait.
Getting there: The easiest way to Jenolan Caves is by car. The road there gets busy during the middle of the day and is very windy, so we suggest making an early start to avoid the oncoming traffic on a narrow road. It is not suitable for caravans. Every day between 11.45am and 1.15pm the road leaving Jenolan and heading to Katoomba is closed to allow coaches coming from the other direction in.
You can get a bus from Katoomba to Jenolan Caves at 10.35 most days which takes two hours.
Scenic World
This is your best bet if you want to get a good overview of the area but don't want to hike. There's a cable car that goes across the valley to a fabulous lookout, one that goes to the valley floor and also the steepest train in the world.
There's a couple of short walking tracks from the valley floor and it's a great place to spot lyrebirds, we've seen them every time we've been on these tracks. A couple of longer walking tracks also start at the valley floor including the one we mention above to Ruined Castle, but if you've spent money on a Scenic World ticket you probably want to make the most of it.
Our advice for Scenic World would be to avoid weekends unless you have no other option. The queues can be ginormous, not just to get in but for each of the rides. To avoid the long ticket queue, book online, go to the shorter ticket collection queue and arrive early.
Getting there: Scenic World offers ample free parking, so driving is the most convenient way to get there. You can walk from Katoomba train station or get the hop-on, hop-off Blue Mountains Explorer bus.
Catch a Sunrise
Govett's Leap - Blackheath

This is the go to spot for photographers. You might have it to yourself midweek but if you visit on a weekend you're likely to see a few others wielding tripods, one of them might be us! It's a fantastic place to watch the sunrise above the valley and turn the cliffs golden. The lookout is at the car park, no walking required so it's the easiest of the three options on our list.
Pulpit Rock - Blackheath

This is another lovely sunrise spot, less popular than Govett's. There was just one other person there both times we visited on a weekend. The lookout itself is actually one of our favourites and as with Govett's the sun turns the cliffs golden and even red. The lookout is a 15 minute downhill walk from the car park.
Hanging Rock - Blackheath
A real beauty and a bit more off the beaten track than the other two, although if you're an instagrammer you've no doubt seen pictures of it many times. There's a 5km walk to get there (unless the first gate is open in which case you can knock 1.5km off this) so this one requires you to get up the earliest! The track is an easy fire trail until you reach the final section when you have to scramble down a steep path which was a bit hairy. Getting on to the rock itself also involved quite a large jump over a gap between the cliff and the rock and personally we didn't dare. It's a great spot whether on not you make it onto the hanging rock itself though.
Catch a Sunset
Lincoln Rock - Wentworth Falls

You'll probably see this spot has made it on to a few of our blogs, we just love it! Watching the sun drop below the mountains from the cliff top here is epic. It's a fabulous spot for photographers. It's also one of our many favourite Instagram spots in the Blue Mountains.
Sublime Point - Leura

This is a popular spot to watch sunset near the town of Leura. Unlike Lincoln Rock it does have barriers so unless you're going to jump over them it's not really one for sitting and soaking it up. The area you stand in is quite small so it can feel a little busy on a Saturday night, though when we say busy we mean you might be sharing it with 10 other people, considering how gorgeous it is I guess that's not too bad.
Three Sisters - Katoomba

Ok so unlike the other two this isn't technically a sunset spot, in that it doesn't set behind the lookout but it's still a pretty place to be at sun down. If the top platform is busy head down to the lower lookout. It's a good bet for visitors, everyone we've taken there has loved it and sunset gives softer light for photographs.
Bonus tip for your journey back from the mountains to Sydney:
If you haven't seen kangaroos in the wild yet and you are driving from Katoomba to Sydney, go via Glenbrook. It's not much of a detour and you are almost guaranteed to see them at Euroka campground. They hang a round the grassy area beside the campground and can often be seen bounding along the fields beside the road as you drive in.
This article was originally posted on the Walk My World travel blog and is republished here with the permission of the author. All content and images are copyright to Walk My World.
This article archived 10 Mar 2018
Recent News
What's New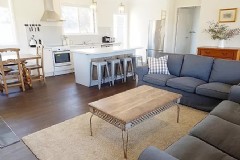 Summer sale at Kilbeggan Cottage!
Kilbeggan Cottage
Enjoy 20% off if you stay between Friday 8th January and Thursday 11th February.
Valentine Day Cadillac tour + Rose $150
Blue Mountains Limousines & Vintage Cadillacs
1929 "The Gatsby" era Limousine Experience - 30 mins Plus a Rose. "Jump in the back seat of my Cadillac !!"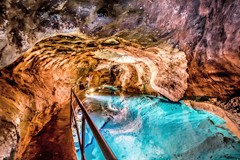 5 Caves Open with Small Tour Groups
Jenolan Caves
Booking Essential. Bring a facemask and enjoy exclusive small tour groups.
School Holidays Are Here!
Federation Gardens and Possums Hideaway
Family friendly, fully self contained cottages on offer
Enjoy a cottage in the Blue Mountains
Matildas Of Leura
Enjoy a comfortable stay in this delightful self-contained 3 bed cottage only minutes from Leura Mall
See also: