Blue Mountains News
25th Blue Mountains Music Festival of Folk Roots and Blues
Source: BMFF
Archived 30 Dec 2019
- Posted: 1 Nov 2019
The 25th Annual Blue Mountains Music Festival – 13th, 14th and 15th of March 2020 will feature over 110 concerts, as well as songwriters' and instrumental circles, Heartland Conversations, Poet's Breakfasts, Kid's Activities, roaming performers and much more.
Australian performers include the multi ARIA award-winning singer-songwriters John Butler and Kasey Chambers, Oz blues legends the Backsliders, blues and roots trio 19-Twenty and the irreverent antics of The Sandman and Flacco. They will be joined by Australian singer-songwriters Mama Kin Spender, local blues and funk slide-guitarist Claude Hay, Shellie Morris, and Djakapurra, award-winning Indigenous performer Emily Wurramara, modern blues guitarist Lloyd Spiegel, two-piece musical circus Lily and King, the trad-folk and roots sounds of Den Hanrahan & the Rum Runners, acoustic folk duo Montgomery Church, multi-instrumentalists Saije, country music artist Jed Zarb, along with local singer-songwriters Nic Danta, Phil Davidson, Eagle and the Wolf, Isobel Knight and Jerrah Patson.
Blue Mountains Music Festival welcomes back award-winning American folk and traditional music artist Rhiannon Giddens who will be joined by Francesco Turrisi. Also from the USA are legendary musician Kieren Kane with gifted songwriter Rayna Gellert, The Turner Brown Band – a collaboration between Australian slide guitarist Dom Turner and U.S. lap slide-guitar and vocal sensations Nikki D Brown and sisters Gloria Brown and Tamika Webb, old school country/folk and roots artist Will Kimbrough and American bluegrass duo the Whitetop Mountaineers.
Joining this terrific lineup from Canada are Irish-born Canadian singer-songwriter Irish Mythen, energetic modern folksters The East Pointers, Quebecois trio È.T.È., Celtic group Coig, natural storyteller Ian Sherwood, and the musical revelry of The Burning Hell.
From Ireland, Blue Mountains Music Festival welcomes international folk legend Eleanor McEvoy and soulful vocalist SON. Travelling to Katoomba from Scotland come three Celtic bands — Fara, The Jellyman's Daughter and the lively The Langan Band. From the U.K, reggae, jazz and soul saxophonist YolanDa Brown, one of the UK's finest folk guitarists and songwriters John Smith, political singer-songwriter Grace Petrie and returning high-energy bluegrass band Flats & Sharps.
If that's not enough they also welcome Startijenn, a five-piece folk band from France playing Breton music that will get you up and dancing.
The RSL Blues Room and the Pavillion Stage will be back for our very special 25th-anniversary festival.
Stay tuned to Blue Mountains Music Festival Facebook page for more artist announcements.
The 25th Annual Blue Mountains Music Festival is on in Katoomba on the 13th, 14th & 15th of March 2020. Weekend Tickets, Single Day Tickets plus full artist lineup and program information are available here – ticket info
Visit the website for full details of the festival, artists, tickets and anything else you need to know about this unique weekend of music in Katoomba on the rim of a World Heritage wilderness.
Early Bird Tickets are available now.
This article archived 30 Dec 2019
Recent News
What's New
Katoomba Ghost Bus Tour
Blue Mountains Mystery Tours
Join Paranormal Pete on the Ghost Bus to investigate the reports of Ghosts & Hauntings in Blue Mountains. 0418 416 403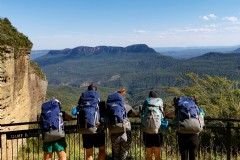 We are open!
Freeland Hiking Co.
Come and explore the mountains with us on a day-tour in the Blue Mountains.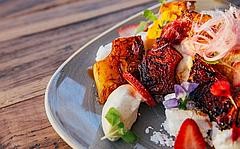 Lindsay's Cafe: Beautiful & Relaxing
Lindsay's Cafe
Join us for Breakfast or Lunch. Open from 9am weekends. 10am weekdays @ the Norman Lindsay Gallery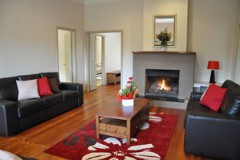 Autumn Getaway
Sophia's of Leura
Come and see the beautiful colours in Leura this Autumn. Book now for your escape.
Spa, slow combustion fire place, BBQ
Blue Gum House
$480 special this weekend for 2 adults, linen included. + $30 per additional person, per night !
See also: