Blue Mountains News
2020 Morning Melodies at The Joan On Sale from Wednesday 27 November
Source: Joan Sutherland Performing Arts Centre
Archived 19 Jan 2020
- Posted: 26 Nov 2019
Presented by the Joan Sutherland Performing Arts Centre
Aussie Icons Forever | Duets | Lonnie Lee Back to Base | Leading Men and Leading Lady | The NSW Police Band | Elvis & Friends | With Love – Marilyn | Headliners – Stars of Yesterday & Today | The Royal Australian Navy Band
From January through till December, on the fourth Wednesday of every month*, The Joan's Morning Melodies series will bring audiences some of the best world-class entertainment from 11am – 12.30pm, accompanied by a delicious Devonshire Tea.
For 30 years Morning Melodies has entertained a loyal community of followers who have become a vital and ongoing part of The Joan's history. Valda Silvy OAM, Music Programmer for the Morning Melodies series, says that it has been truly heart-warming to see so many new faces joining loyal regulars over the past few years.
When talking about the Morning Melodies series in 2020, Valda says, "I'm so excited about this year's program, it's star-studded and full of fun – a perfect way to celebrate The Joan's 30th Anniversary! Come and join us for another great year of marvellous music. We look forward to seeing you."
The beginning of the year sees a celebration of our home country in Aussie Icons Forever on 22 January. In an early celebration of Australia Day, Little Pattie, Jim Haynes and the Greg Hooper Trio have all pooled their talents to provide a morning of absolute Aussie entertainment and iconic musical treasures.
A tribute to the greatest duets from stage and screen on 26 February sees Tony Mazell, Guy Taylor, Shilo Khader & Sara Mazell in Duets. It's a showcase of the worldwide hit duets spanning the 40s to today - from Frank & Nancy Sinatra's Something Stupid to Dirty Dancing's Time of my Life and many more perfect pairings.
Listen, watch and witness why this icon is still adored and respected after nearly 60 years recording and on stage… Lonnie Lee & The Leemen return on 25 March with Lonnie Lee's Back to Base X – 63 Years And Still Rockin'. Guaranteed, you will be amazed at his energy and exciting vocal style.
They're back! Darryl Lovegrove, Derek Metzger, Scott Irwin and Danielle Barnes and the Greg Hooper Trio join hands in song for Leading Men with a Leading Lady on 22 April. Famous duets and songs, delivered by the big names and voices. Inspired by the greatest songs of music theatre, this best of Broadway inspired act features three leading men and one female star, who all have played leading roles in Australia's most popular musicals.
In celebration of its 125th year, on 27 May, The NSW Police Band with vocalist Belinda Adams will take you on a journey through the music of Gershwin, Cole Porter, Tchaikovsky, Mozart, Bernstein and Broadway. This concert features a stunning repertoire of favourites and is a show loved and looked forward to every year by all!
On 24 June we meet with one of Australia's most successful and award-winning Elvis impersonators - Damien Mullin, who will take you on a rock-n-roll ride with the voice and moves that capture the essence of the King in Elvis & Friends.
In July, be prepared to be blown away by this great new show direct from New York. This is a chance for you to be swept up by a musical story about the late Marilyn Monroe in With Love – Marilyn. Triple-threat blonde bombshell, Erin Sullivan delivers a performance of cheeky humour, sexy seduction, and scintillating song. Some Like it Hot, but Sullivan brings extra spice. Be prepared for something special on 22 July.
As we continue the scintillating celebration of stardom, we delve into Headliners – Stars of Yesterday and Today on 26 August. Danny Elliott, Grant Galea, Angela Ayers and the Greg Hooper Trio are six outstanding talents that have joined forces to bring you a tribute to the great singers of yesterday and today, from Elton John to Bobby Darin, Dean Martin, Frank Sinatra and Linda Ronstadt.
In September, The Royal Australian Navy Band Sydney, under the musical direction of Lieutenant Brian O'Kane, will take you on a journey through beautiful music that will uplift and stir the soul. Be prepared for a big, celebratory, ceremonial sound, with plenty of familiar favourites as we join this 50-member strong big band on 23 September.
Get ready to rock. On Wednesday 28 October, Roland Storm, Lucky Starr, Bob Howe and the legendary Greg Hooper Trio bring you a show dedicated to The Golden Boys of Aussie Rock 'N' Roll. Come along and let the good times roll with The Golden Boys as they share the stage together and treat you to some of the hits they performed on 6 O'clock Rock, Bandstand and Sing Sing Sing.
On 25 November we hit the ground running with Showstoppers – featuring Michael Montgomery, Leigh Archer and Beau Smith. From power ballads, to show-tunes and classic favourite, these three multi-talented performers backed by the Greg Hooper Trio bring you some of the world's biggest songs!
And finally, finish off the year with a sparkling package of exciting talent to be unwrapped and enjoyed by audiences all over with A Jolly Holly Christmas. Graeme Wright, Company B, Amber Jade and the Greg Hooper Trio will feature an Andrews Sisters tribute, big band favourites and renditions of Pavarotti, Bocelli, Lanza and Caruso classics in the highly anticipated annual Christmas concert - don't miss the last show of the year on Wednesday 16 December!
The full line-up for the 2020 Morning Melodies series is as follows;
January 22 - Aussie Icons Forever
February 26 - Duets
March 25 - Lonnie Lee's Back to Base X – 63 Years And Still Rockin'
April 22 - Leading Men with a Leading Lady
May 27 - The NSW Police Band
June 24 - Elvis & Friends
July 22 - With Love – Marilyn
August 26 - Headliners – Stars of Yesterday and Today
September 23 - The Royal Australian Navy Band
October 28 - The Golden Boys of Aussie Rock 'N' Roll
November 25 - Showstoppers
December 16 - A Jolly Holly Christmas
How to buy tickets to the 2020 Morning Melodies series at The Joan
Tickets can be pre-booked over the phone via the Box Office on 4723 7600 or via the website. All tickets include a delicious morning tea served from 10am with performances beginning at 11am and concluding around 12.30pm. All seats are allocated.
6 show subscription - $20 per ticket
Pre-booked and paid ticket - $22 per ticket
Purchase on the day - $25 per ticket
*A Jolly Holly Christmas on the third Wednesday of December
This article archived 19 Jan 2020
Recent News
What's New
Does your Super cover insurance?
Trumans Chartered Accountants
Has your Super got you covered for insurance? With COVID-19, maybe not ... read on
All occasion Beauty at your door
Glamour & Elegance Mobile Beauty
Pamper Events-Hens/bridal-Corporate-Kids Parties-Couples-Weddings-Ladies Pamper-Mothers Groups-Vouchers-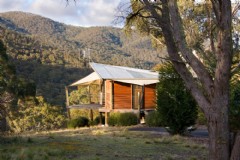 Indulge and relax in our Wilderness Spa
Eagle View Escape
Nestled amongst the trees, enjoy nature and the tranqility whilst soaking in your Spa bath.
Save $$$s off midweek multi-night stays
Valley of the Waters
Mon-Thurs Cliff View room $249 per double per night, or The Loft suite $269 including cooked or continental breakfasts
Romantic Escape Blue Mountains
Federation Gardens and Possums Hideaway
Three night midweek stay $600 in one of our Possums Cabins for Couples
See also: